STARTING THERAPY OR COACHING PRACTICE
WORDPRESS WEBSITE
Hosting, WordPress & Thema
We help you set up the hosting. This remains in your own control but you don't have to do much for it. We set up WordPress with a convenient theme and customize colors, fonts and images to your liking. We also set up backups and updates to run automatically.
Site layout + features
We will give advice on the layout of your site and help you make the best choices for your (service) pages. We will also provide advice for the menu bar and additional features such as a button for a free intake schedule online.
Findability and lead generation
We make sure that at least 4 of your pages are easy to find. We also make adjustments so that the pages appeal to your target group as much as possible and that they can contact you quickly.
EXAMPLES WEBSITES THERAPISTS AND COACHES
Some examples of WordPress websites from our Portfolio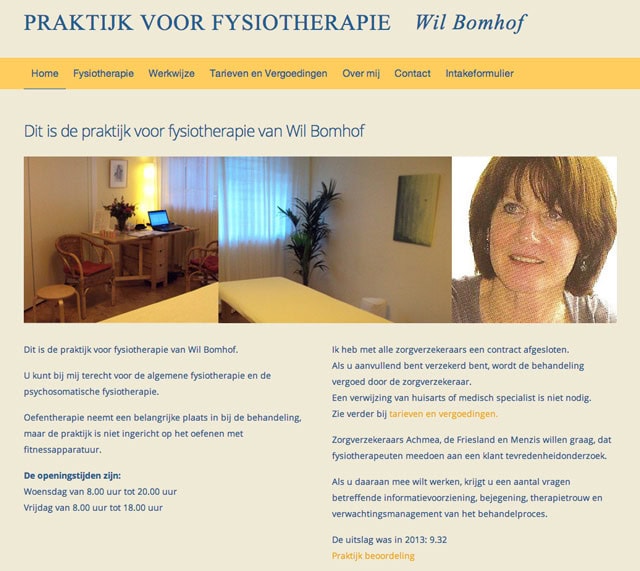 WordPress website
Simple homepage
4 pages filled with your text
Deliver image yourself / stockphotos
Possibly blog page
Possibly 3 blog posts filled with your text
Social icons
Backups & updates for 1 year
Use theme forever
(Locally) findable & advice
Online appointment scheduling
Advice menu and pages
4 pages SEO proof
Local SEO
Advice for photos
CRO advice (more leads)
Very simple logo if desired
pay in 6x
€ 300 / month for 6 months
incl. monthly 15 min support
One Time Full Payment
€ 1400 (20% discount) payment
Prices are excl. 21% VAT.
pay in 12x
€ 170 / month for 12 months
incl. monthly 10 min support
"IT'S REALLY ALL OVER THE PLACE.""
Websites, nobody looks at those anymore, people around me said. And I could hardly prove them wrong. I had a website for years, but no one visited it. But when I started working with Minimalist Marketing, I suddenly found myself at the top of the search results for the keywords I wanted to be found too. My blogs came up with google without me having to run one ad. It is really great!
Marjet really thinks along with you. She has a sharp, critical eye but also listens very well to what I want and what is important to me. She thinks along about suitable subjects and finds out what my clients are searching for. She taught me a lot, in a simple way, so that I can keep control over my website. At the same time she takes over quickly when things get too complicated for me and it goes beyond my expertise. That is exactly what I need. I can focus my energy on the work I like and Minimalist Marketing looks for opportunities, possibilities and has made me grow enormously in a short time.
Hiring Minimalist Marketing was really the best decision ever. My website has become extremely well visited. Existing blogs that no one ever read are now widely read because they have been made perfectly SEO proof, without compromising the content or my message."
Iris Droste, Liefdescoach
"I can recommend Marjet for your own coaching website and marketing"
For our coaching agency NONONS, we engaged Marjet for the web design and web building. She has not only helped us to grow but also provided a lot of online advice. She thinks along with us and has assisted us with a lot of advice, knowledge and patience over the past 5 years.
Anne de Jong, NONONS
HOW IT WORKS
How we start your practice together.
During the intake you can ask your questions and we determine what you need. We can also adjust the package custom. Do you need a little less or more. No problem at all.
You receive a plan of action
We'll send you a concrete plan for your situation with all the things we're going to pick up and help you set up.
Choose your payment method
You can decide whether you pay in one time or several times. If you want to customize this, we make a separate price for it.